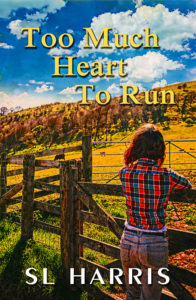 SL Harris' second novel, Too Much Heart to Run, is set to be released August 11, 2016.
Too Much Heart to Run is a story of a woman in crisis. In an attempt to escape the constant reminders of the loss of her partner, Del returns to her childhood hometown. There she finds the fears of an abusive childhood which she thought she had overcome years before. Her survival instincts had told her to run from her family then, and running still seems like a good option.
Widow is also plagued by her past, when she made difficult choices to protect her children. Now her children are grown, but old habits are hard to break.
When Del and Widow meet, an unexpected bond forms. Will their future happiness be destroyed or can they learn to fight their fears and finally put them to rest?